Maddie Ziegler ha fatto il suo debutto cinematografico sul red carpet del Los Angeles Film Festival, durante la prima del film The Book Of Henry, di cui è una delle protagoniste!
Congratulazioni Maddie!
La piccola star era stupenda nel suo vestito rosso con corpetto e i lunghi capelli color miele sciolti sulle spalle.
Getty Images
Quando si tratta di arabesque, chassé o fouettés, Maddie ha già dimostrato di essere la migliore, ma ora la sorprendente ballerina di Sia è cresciuta ed è pronta per conquistare il mondo del cinema!
Le espressioni buffe e imbarazzate sul suo viso rendono tutta la sua emozione. 
Getty Images
Nella pellicola, Maddie interpretata Christina, una bambina vittima del patrigno. Ma Henry Carpenter un bambino dalla mente brillante, interpretato da Jaeden Lieberher, con l'aiuto di sua madre (Naomi Watts) cercheranno in tutti i modi di salvarla. 
Getty Images
Una storia drammatica, con cui dimostrare tutte le sue doti d' attrice. Del resto è una piccola professionista, come quando è incappata in un Wardrobe Malfunction sul palco con Sia, ma è stata così brava a recuperare che nessuno se ne è accorto!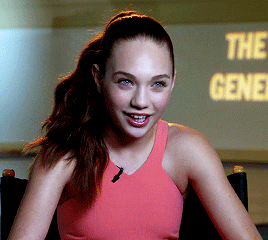 Maddie Ziegler ha seguito Sia (la cantante si è finalmente mostrata senza parrucca!) in tutto il "Nostalgic for the Present Tour": le due hanno iniziato a lavorare insieme quando l'artista la scelse come ballerina per il video di "Chandelier".
Nle frattempo Maddie ha anche trovato l'amore e posta un sacco di foto romantiche con il suo Jack, ma qualcuno ha avuto da ridire sulla relazione, definita "troppo" per la sua età.
ph: getty images