ll momento tanto atteso è arrivato, non vedevamo l'ora! I nostri amici di Nickelodeon hanno appena svelato i nominati per le categorie dei Kids' Choice Awards 2017, dove le più grandi star si fanno ricoprire dallo slime, la sostanza verde "appiccicosa" che inonderà il palco e i premiati!

 Tra le star in nomination quest'anno ci sono Ben Affleck, Megan Fox, Scarlett Johansson, Bruno Mars, The Chainsmokers, Justin Timberlake, Twenty One Pilots e molti altri. 
Siamo emozionatissisimi perchè ci saranno anche due categorie italiane, molto ben rappresentate: "Cantante Italiano Preferito" dove in nomination ci sono Benji & Fede, Elodie, Gemeliers, Luca Chikovani e "Youtuber Italiano Preferito" con Ehi Leus, iPantellas, MATES, Matt & Bise e Virginia De Giglio. Noi stiamo già tifando come pazzi!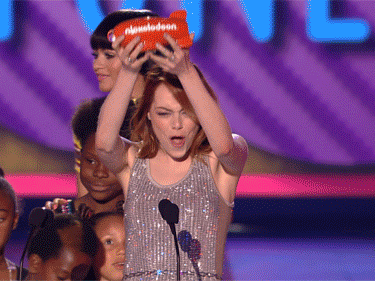 Per sostenere i tuoi artisti preferiti votali su kca2017.nick.com oppure scrivi un bel post su Twitter e Facebook, utilizzando gli hashtag associati con la combinazione del nome dell'artista o programma. Per comodità ti mettiamo qui gli hashtag per votare le categorie italiane:
#KCACantanteItaliano + #BenjiEFede o #Elodie o #Gemeliers o #LucaChikovani 
#KCAYoutuberItaliano + #EhiLeus o #MATES o #MattEBise o #iPantellas o #VirginiaDeGiglio 
Quindi che aspetti, prendi carta e penna e segnati tutto: i Kids' Choice Awards 2017 verranno trasmessi in Italia venerdì 17 marzo alle 20.30 solo su Nickelodeon (Sky 605-606). Il presentatore sarà John Cena, si prevede una premiazione davvero action!
E ora bando alle ciance, ecco le categorie:
TELEVISIONE:
Programma Tv Preferito – Programmi per Raggazzi
Game Shakers
Girl Meets World
Henry Danger
Nicky, Ricky, Dicky & Dawn
The Thundermans
Programma Tv per Famiglie Preferito
Big Bang Theory
Black-ish
Fuller House
Marvel's Agents of S.H.I.E.L.D.
Supergirl
The Flash
Talent Show Preferito
America's Funniest Home Videos
America's Got Talent
American Ninja Warrior
Paradise Run
Shark Tank
The Voice
Cartone Animato Preferito
ALVINNN!!! and The Chipmunks
SpongeBob SquarePants
Teen Titans Go!
Teenage Mutant Ninja Turtles
The Amazing World of Gumball
The Loud House
Star Tv Maschile Preferita
Benjamin Flores Jr. (Triple G, Game Shakers)
Aidan Gallagher (Nicky, Nicky, Ricky, Dicky & Dawn)
Jack Griffo (Max, The Thundermans)
Jace Norman (Henry, Henry Danger)
Casey Simpson (Ricky, Nicky, Ricky, Dicky & Dawn)
Tyrel Jackson Williams (Leo, Lab Rats)
Star Tv Femminile Preferita
Rowan Blanchard (Riley, Girl Meets World)
Dove Cameron (Liv and Maddie, Liv and Maddie)
Lizzy Greene (Dawn, Nicky, Ricky, Dicky & Dawn)
Kira Kosarin (Phoebe, The Thundermans)
Breanna Yde (Tomika, School of Rock)
Zendaya (K.C., K.C. Undercover)
FILM:
Film Preferito
Batman v Superman: Dawn of Justice
Captain America: Civil War
Ghostbusters
Pete's Dragon
Rogue One: A Star Wars Story
Teenage Mutant Ninja Turtles: Out of the Shadows
Attore di Film Preferito
Ben Affleck (Batman, Batman v Superman: Dawn of Justice)
Will Arnett (Vernon, Teenage Mutant Ninja Turtles: Out of the Shadows)
Henry Cavill (Superman, Batman v Superman: Dawn of Justice)
Robert Downey Jr. (Iron Man, Captain America: Civil War)
Chris Evans (Captain America, Captain America: Civil War)
Chris Hemsworth (Kevin, Ghostbusters)
Attrice di Film Preferita
Amy Adams (Lois, Batman v Superman: Dawn of Justice)
Megan Fox (April, Teenage Mutant Ninja Turtles: Out of the Shadows)
Scarlett Johansson (Black Widow, Captain America: Civil War)
Felicity Jones (Jyn, Rogue One: A Star Wars Story)
Melissa McCarthy (Abby, Ghostbusters)
Kristen Wiig (Erin, Ghostbusters)
Film d'Animazione Preferito
Finding Dory
Moana
Sing
The Secret Life of Pets
Trolls
Zootopia
Voce Preferita di un Cartone Animato
Ellen DeGeneres (Dory, Finding Dory)
Kevin Hart (Snowball, The Secret Life of Pets)
Dwayne Johnson (Maui, Moana)
Anna Kendrick (Poppy, Trolls)
Justin Timberlake (Branch, Trolls)
Reese Witherspoon (Rosita, Sing)
Cattivo Preferito
Helena Bonham Carter (The Red Queen, Alice Through the Looking Glass)
Idris Elba (Krall, Star Trek Beyond)
Will Ferrell (Mugatu, Zoolander 2)
Kevin Hart (Snowball, The Secret Life of Pets) *Note: animated
Charlize Theron (Ravenna, The Huntsman: Winter's War)
Spencer Wilding (Darth Vader, Rouge One: A Star Wars Story)
Spaccatutto Preferito
Ben Affleck (Batman, Batman v Superman: Dawn of Justice)
Henry Cavill (Superman, Batman v Superman: Dawn of Justice)
Chris Evans (Captain America, Captain America: Civil War)
Chris Hemsworth (The Huntsman, The Huntsman: Winter's War)
Scarlett Johansson (Black Widow, Captain America: Civil War)
Felicity Jones (Jyn, Rouge One: A Star Wars Story)
Jennifer Lawrence (Mystique, X-Men: Apocalypse)
Zoe Saldana (Lieutenant Uhura, Star Trek Beyond)
BFF Preferiti*
Ruby Barnhill & Mark Rylance (Sophie/BFG, The BFG)
Kevin Hart & Dwayne Johnson (Bob/Calvin, Central Intelligence)
Kevin Hart & Ice Cube (Ben/James, Ride Along 2)
Chris Pine & Zachary Quinto (Captain Kirk/Spock, Star Trek Beyond)
Neel Sethi & Bill Murray (Mowgli/ Baloo, Jungle Book)
Ben Stiller & Owen Wilson (Derek/Hansel, Zoolander 2)
NemiciAmici Preferiti*
Ben Affleck & Henry Cavill (Batman/Superman, Batman v Superman: Dawn of Justice)
Chris Evans & Robert Downey Jr. (Captain America/Iron Man, Captain America: Civil War)
Ginnifer Goodwin & Jason Bateman (Judy/Nick, Zootopia)
Dwayne Johnson & Auli'I Cravalho (Moana/Maui, Moana)
Anna Kendrick & Justin Timberlake (Poppy/Branch, Trolls)
Charlize Theron & Emily Blunt (Ravenna/Freya, The Huntsman: Winter's War)
Animale Preferito*
Baloo from The Jungle Book (Bill Murray)
Dory from Finding Dory (Ellen DeGeneres)
Po from Kung Fu Panda 3 (Jack Black)
Red from The Angry Birds Movie (Jason Sudeikis)
Rosita from Sing (Reese Witherspoon)
Snowball from The Secret Life of Pets (Kevin Hart)
Squad Preferita*
Captain America: Civil War - Chris Evans, Robert Downey Jr., Scarlett Johansson, Sebastian Stan, Anthony Mackie, Don Cheadle, Jeremy Renner, Chadwick Boseman
Finding Dory – Ellen DeGeneres, Albert Brooks, Kaitlin Olson, Hayden Rolence, Willem Dafoe, Ed O'Neill, Ty Burrell, Eugene Levy
Ghostbusters – Melissa McCarthy, Kristen Wiig, Kate McKinnon, Leslie Jones
Rogue One: A Star Wars Story – Felicity Jones, Forest Whitaker, Diego Luna, Ben Mendelsohn, Alan Tudyk, Donnie Yen, Riz Ahmed, Mads Mikkelsen
Teenage Mutant Ninja Turtles: Out of the Shadows – Noel Fisher, Jeremy Howard, Pete Ploszek, Alan Ritchson
X-Men: Apocalypse – James McAvoy, Michael Fassbender, Jennifer Lawrence, Nicholas Hoult, Evan Peters, Tye Sheridan, Ben Hardy, Kodi Smit-McPhee, Sophie Turner, Alexandra Shipp, Olivia Munn
MUSICA:
Gruppo Musicale Preferito
The Chainsmokers
Fifth Harmony
Maroon 5
OneRepublic
Pentatonix
Twenty One Pilots
Cantante Uomo Preferito
Drake
Justin Bieber
Bruno Mars
Shawn Mendes
Justin Timberlake
The Weeknd
Cantante Donna Preferita
Adele
Beyoncé
Ariana Grande
Selena Gomez
Rihanna
Meghan Trainor
Canzone Preferita
24K Magic – Bruno Mars
Can't Stop the Feeling! – Justin Timberlake
Heathens – Twenty One Pilots
Send My Love (To Your New Lover) – Adele
Side to Side – Ariana Grande ft. Nicki Minaj
Work from Home – Fifth Harmony ft. Ty Dolla $ign
Nuovo Artista Preferito
Kelsea Ballerini
The Chainsmokers
Daya
Lukas Graham
Solange
Rae Sremmurd
Hailee Steinfeld
Twenty One Pilots
Video Musicale Preferito*
24K Magic – Bruno Mars
Can't Stop The Feeling! – Justin Timberlake
Formation – Beyoncé
Juju On That Beat – Zay Hilfigerrr and Zayion McCall
Me Too – Meghan Trainor
Stressed Out – Twenty One Pilots
Dj Preferito*
Martin Garrix
Calvin Harris
Major Lazer
Skrillex
DJ Snake
Zedd
Colonna Sonora Preferita*
Hamilton
Me Before You
Moana
Sing
Suicide Squad
Trolls
Artista Virale Preferito*
Tiffany Alvord
Matty B
Carson Lueders
Johnny Orlando
Jacob Sartorius
JoJo Siwa   
Star Globale Preferita*
5 Seconds of Summer (Australia/New Zealand)
BIGBANG (Asia)
Bruno Mars (North America)
Little Mix (UK)
Shakira (South America)
Zara Larsson (Europe)
ALTRE CATEGORIE:
Video Game Preferito
Just Dance 2017
Lego Marvel's Avengers
Lego Star Wars: The Force Awakens
Minecraft: Story Mode
Paper Mario: Color Splash
Pokémon Moon
CATEGORIE ITALIANE
Cantante Italiano Preferito
Benji & Fede 
Elodie 
Gemeliers 
Luca Chikovani 
Youtuber Italiano Preferito
Ehi Leus 
iPantellas
MATES
Matt & Bise 
Virginia De Giglio