Tyga lascia ben poco all'immaginazione nel suo nuovo brano "Gone Too Far".
Dopo aver rifiutato un'offerta da 10 milioni di dollari per girare un film hard con la sua fidanzata Kylie Jenner, il rapper ha rilasciato un singolo decisamente hot in cui parla di droga, promesse sessuali fra due amanti e sesso sotto la doccia. Che si riferisca alla piccola Kylie? Speriamo di no! Probabilmente la reazione della Jenner non sarebbe fra le più piacevoli...
Queste alcune strofre incriminate: "She gon' do it for a promise ring / Pussy every night, remember what you promised me?" / "You my Grammy, all the other hoes nominees / I was never honest to them other hoes, honestly / Sex in the shower, seen you wet and my diamonds clean / Yeah then maybe you gon' sweat off your Maybelline."
Decisamente un bad boy!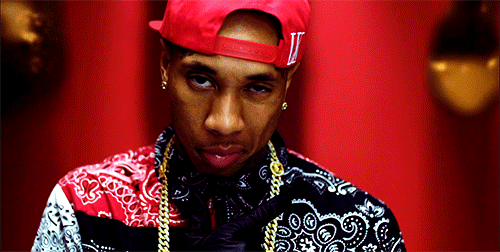 "Gone Too Far" è dedicato quindi a Kylie Jenner? Ma soprattutto: prenderà parte alle riprese del video, come ha fatto con il brano "Stimulated"?