Taylor Swift con il suo nuovo singolo serpentino "Look What You Made Me Do" sta battendo record su record. Quando qualcosa ha un così grande successo, subito si moltiplicano le parodie online e dopo il remix della hit feat. Cersei Lannister direttamente da GOT,  internet ci regala un altro pazzesco mash up:
Un Jersey Shore Remix di "Look What You Made Me Do" feat. Snooki!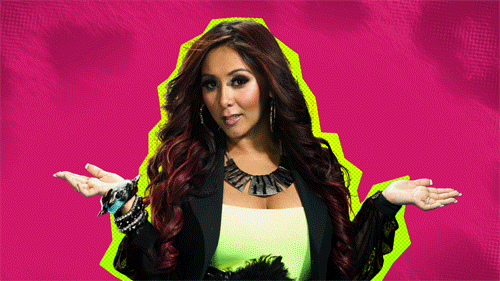 L'utente di Twitter @iamRY2K, ha dato una svolta in pieno stile Jersey Shore, alla telefonata che Taylor riceve durante il videoclip.
In questa versione, è Snooki a ripondere: "Oh, 'cause she's dead" alla domanda "I'm sorry, the old Taylor can't come to the phone right now. Why?".
"Look What You Made Me Do" - Taylor Swift (feat. @snooki) *plz dont sue me* pic.twitter.com/0OczswG3Al

— ˗ˏˋRyanˊˎ˗ (@iamRY2K) 30 agosto 2017
LOL
Sì, lo stralcio è preso dal secondo episodio della seconda stagione di Jersey Shore, quando Snooki prende una telefonata per Angelina e dice che non può venire al telefono perché è morta. Classic Snooki!
Ma la cosa divertente è che anche Snooki, dopo aver visto il video di "LWYMMD", ha pensato subito la stessa cosa! LOL
LOL when that happened I immediately thought about that Miami episode! I LIVE for this! https://t.co/am5o3B1mXm

— Nicole Polizzi (@snooki) 30 agosto 2017
Saranno tutti i riferimenti (e frecciatine) a colleghi ed ex che ci sono nel video, sarà stata tutta la suspense creata intorno alla canzone, sarà perché è stato presentato in grande stile ai nostri MTV VMA 2017, ma il videoclip di "LWYMMD" a nemmeno una settimana dalla sua uscita ha già fatto la storia del pop!
Dai un'occhiata anche a:
PH: TaylorSwiftVEVO