La performance di Ed Sheeran al Glastonbury 2017 ha diviso il pubblico: da una parte chi l'ha trovata eccezionale, dall'altra chi non ha gradito per niente l'uso di una loop station.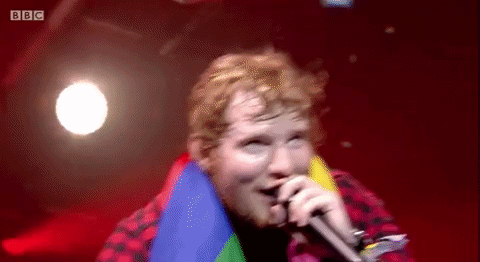 Il cantante di "Shape of You" era l'ultimo nella line-up, scelto proprio per chiudere alla grande la celebre kermesse inglese, e ha deciso di esibirsi completamente da solo. Senza band, quindi, ma con un pedale per mandare in loop una traccia registrata (al momento), in modo da supplire alla mancanza dei musicisti alle spalle.
La loop station funziona proprio così: prima si registrano dei suoni, poi si mandano in riproduzione continua per avere una base ritmica su cui suonare gli assoli.
Questa scelta artistica è stata fortemente criticata, soprattutto perché era nell'ambito del Glastonbury Festival che, secondo chi polemizza, dovrebbe prevedere solo musica live, senza nessuna registrazione.
#Glastonbury
Basically it's Ed Sheeran singing to a backing track.
Couldn't he get real musicians?
I like him but all a bit karaoke.

— William Snootsworth (@Snootsworth) 25 giugno 2017
Is Ed Sheeran signing to a backing track??? Guitar music still playing as it lies on stage #glastonbury2017 he's scamming it!!!

— David (@WeeLowry) 25 giugno 2017
Where is Ed Sheeran's band? Glastonbury supposed to be about live music, not singing to a backing track. Need #Davegrohl #Glastonbury2017

— Natalie Tambini (@NatDTam) 25 giugno 2017
Dall'altra parte, c'è chi ha apprezzato il suo one man show, sottolineando che Ed Sheeran ha usato il loop pedal per creare nuovi sfondi per le sue canzoni e per dare al pubblico uno show originale.
So many people complaining that Ed Sheeran is using a 'backing tape' clearly don't understand the concept of loop pedals

— nicola✖️ (@nixola_) 25 giugno 2017
I can't believe that there are still people in the world who think Ed Sheeran uses a backing track.
EVERYTHING IS LIVE. EVERY SOUND IS HIM.

— Sami 🎭 (@LANYDreamer) 25 giugno 2017
People are really out here thinking Ed Sheeran uses a backing track... HE LITERALLY CREATES THE ENTIRE SONG ON STAGE IT'S A LOOP PEDAL

— Noshin Chowdhury (@noshinxD) 26 giugno 2017
Lo stesso Ed Sheeran ha risposto alle accuse, dicendo che c'è differenza tra usare una loop station e avere una backing track.
Never thought I'd have to explain it, but everything I do in my live show is live, it's a loop station, not a backing track. Please google x

— Ed Sheeran (@edsheeran) 26 giugno 2017
Tu cosa ne pensi?
Cara Delevingne, Bradley Cooper, Brad Pitt: sono tantissime le star avvistate al Glastonbury 2017: scoprile tutte qui!
ph: getty images