Scommettiamo che hai spesso sognato di incrociare per caso un tuo idolo e di instaurare un allegro dialogo: ed è proprio quello che è successo a una fan di Timothée Chalamet.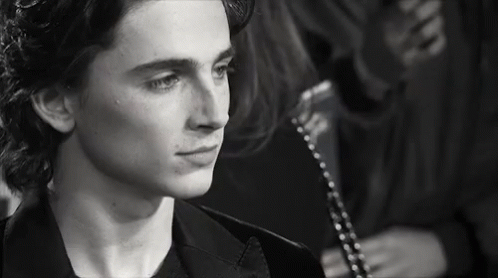 La fortuna ragazza ha incontrato l'attore su un aereo - pare viaggiasse in economy - e ha avuto l'opportunità di stargli vicino per tre ore, o almeno così ha detto essere la durata del volo. Sì perché la fan, che si chiama Alankrutha e usa il nome @alankruthahaha su Twitter, ha riportato sul social tutto quello che è successo e, secondo le sue parole, Timothée è un vero e proprio gentleman.
La conversazione è iniziata quando la ragazza ha preso coraggio e ha chiesto alla star se fosse proprio lui.
HE LAUGHED AND SAID "AYYY YES IT IS, HI I AM TIMOTHEE" and shook my hands and at this point I was basically shook/ stunned and I couldn't process anything pic.twitter.com/nYXovxWM4s

— Alankrutha (@alankruthahaha) 5 febbraio 2019
Alankrutha ha scritto le tre domande che le sono venute in mente e a cui il 23enne ha "pazientemente risposto".
List of actual questions my dumb bitch mind asked him that he answered super patiently:
1. Why are you sitting in economy class (he laughed and said how dare you)
2. Have you met Beyoncé (he has not)
3. How is Steve carrell (he said he's amazing and offered to FaceTime him!!)

— Alankrutha (@alankruthahaha) 5 febbraio 2019
"1. Perché sei seduto in Economy? Ha riso e ha risposto 'ma come ti permetti'"
"2. Hai mai incontrato Beyoncé? Ha detto di no"
"3. Com'è Steve Carrell? Ha detto che è fantastico e si è offerto di chiamarlo via FaceTime".
Ma la cosa che ha stupito davvero la fan è che Timothée Chalamet sembrava davvero interessato alla sua vita: "La cosa che mi ha scioccato è che voleva sapere di me. Mi ha chiesto cosa faccio, che progetti seguo, dove sono cresciuta e ha anche pronunciato correttamente il mio nome".
What shocks me the most is this dude wanted to know about me. He asked me what I do, what project management is about (literally who cares timothee), where I grew up and PRONOUNCED MY NAME RIGHT pic.twitter.com/Z57pj2T2SS

— Alankrutha (@alankruthahaha) 5 febbraio 2019
"Tutte le sue domande erano super sincere e genuine e continuava a darmi il cinque e annuiva amichevolmente mentre il mio cuore stava per esplodere" ha aggiunto Alankrutha.
Dolcissimo!
Secondo i tweet della ragazza, l'attore ha continuato a parlare raccontandole com'è stata la sua infanzia, com'è arrivato a recitare a Hollywood, qual è il suo episodio preferito di "The Office" e a un certo punto ha anche nominato Armie Hammer, sua co-star in "Chiamami Col Tuo Nome".
And whenever he asks me about my life, I'm like !!!!!!! Why do you want to know about an IDIOT like me!!!!! He asks about India, name drops armie hammer (ofc why wouldn't he) and tells me about his life growing up and how he got into films

— Alankrutha (@alankruthahaha) 5 febbraio 2019
Quando il volo è atterrato, è stato Timothée Chalamet a chiedere alla fan se volesse scattare un selfie perché era stata "l'unica ad averlo riconosciuto".
The flight landed, we spoke for a bit about his upcoming films, he wished me luck for my career (Idc about my career at this point) and also told me I was the *only* one in his entire journey who recognised him and asks if I want a pic and I oblige graciously w/o any frills pic.twitter.com/NMGjKVKvDQ

— Alankrutha (@alankruthahaha) 5 febbraio 2019
Sì, Timothée è un vero gentleman!
ph: getty images