Jason Momoa ha appena portato i meet and greet a tutto un altro livello!
Durante il Comic Con a Denver, il muscoloso attore che interpreta Aquaman ha incontrato i fan e ovviamente si è concesso alle foto di rito.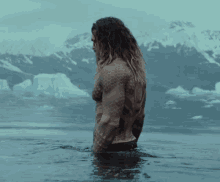 Ma il marito di una ammiratrice non era d'accordo sul fatto di lasciare sola la sua dolce metà con la star lanciata dal personaggio di Khal Drogo in "Game of Thrones" e ha deciso di intrufolarsi nella foto.
Il risultato è LOL, con Mamoa che con un braccio tiene a distanza il marito geloso mentre con l'altro abbraccia la donna, vestita per l'occasione da Sansa Stark.
"Ho detto a mio marito che volevo una foto sola con Jason Momoa, ma non gli piaceva l'idea" ha scritto la fan nella didascalia.
Tanto per ribadire il concetto, l'attore ha lasciato le sue iniziali proprio sulla faccia dell'uomo.
Non serve specificarlo: l'immagine è già virale!
Forse il marito geloso non sapeva che Jason Momoa è felicemente sposato con Lisa Bonet, la ex di Lenny Kravitz e mamma di Zoe, e insieme hanno avuto due figli.
ph: getty images