Sono stati consegnati gli Emmy Awards 2017: condotta da Stephen Colbert, la 69esima edizione dei premi era di scena a Los Angeles e ha visto trionfare a sorpresa alcune serie, come The Handmaid's Tale e Big Little Lies, che partivano sfavorite sulla carta.
Proprio per Big Little Lies, Nicole Kidman ha battuto Reese Witherspoon come miglior attrice di una mini-serie, ma ha dedicato il premio anche alla collega durante il discorso di ringraziamento. Julia Luis-Dreyfus è stata premiata come miglior attrice in una serie comedy, ovvero Veep, che negli anni ha fatto incetta di Emmy Awards.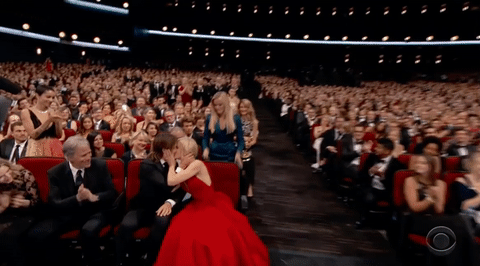 Battuto uno degli attori più quotati alla vittoria: Kevin Spacey, per il suo mitico Frank Underwood in House of Cards. La star ha dovuto cedere il passo a Sterling K. Brown (Randall Pearson in This Is Us) nella categoria Miglior attore protagonista in una serie drammatica.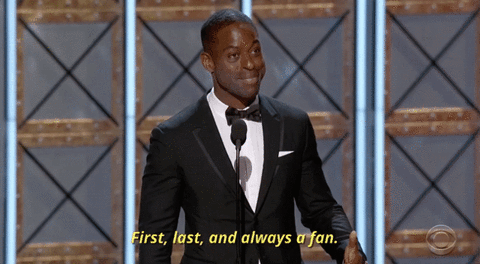 Ecco la lista completa dei vincitori degli Emmy Awards 2017:
Miglior serie drammatica
VINCITORE: The Handmaid's Tale, distribuita da Hulu
Better Call Saul, distribuita da AMC
The Crown, distribuita da Netflix
House of Cards - Gli intrighi del potere (House of Cards), distribuita da Netflix
Stranger Things, distribuita da Netflix
This Is Us, distribuita da NBC
Westworld - Dove tutto è concesso (Westworld), distribuita da HBO
Miglior serie commedia
VINCITORE: Veep - Vicepresidente incompetente (Veep), distribuita da HBO
Atlanta, distribuita da FX
Black-ish, distribuita da ABC
Master of None, distribuita da Netflix
Modern Family, distribuita da ABC
Silicon Valley, distribuita da HBO
Unbreakable Kimmy Schmidt, distribuita da Netflix
 
Miglior miniserie
VINCITORE: Big Little Lies - Piccole grandi bugie (Big Little Lies), distribuita da HBO
Fargo, distribuita da FX
Feud: Bette and Joan, distribuita da FX
Genius, distribuita da Nat Geo
The Night Of - Cos'è successo quella notte? (The Night Of), distribuita da HBO
 
Miglior film per la televisione
VINCITORE: San Junipero (Black Mirror: San Junipero), distribuito da Netflix
Dolly Parton's Christmas of Many Colors: Circle of Love, distribuito da NBC
The Immortal Life of Henrietta Lacks, distribuito da HBO
Il detective morente (Sherlock: The Lying Detective), distribuito negli USA da PBS
The Wizard of Lies, distribuito da HBO
 
Miglior reality competitivo
VINCITORE: The Voice, distribuito da NBC
The Amazing Race, distribuito da CBS
American Ninja Warrior, distribuito da NBC
Project Runway, distribuito da Lifetime
RuPaul's Drag Race, distribuito da VH1
Top Chef, distribuito da Bravo
 
Miglior varietà talk show
VINCITORE: Last Week Tonight with John Oliver, distribuito da HBO
Full Frontal with Samantha Bee, distribuito da TBS
Jimmy Kimmel Live!, distribuito da ABC
The Late Late Show with James Corden, distribuito da CBS
The Late Show with Stephen Colbert, distribuito da CBS
Real Time with Bill Maher, distribuito da HBO
Miglior varietà di sketch
VINCITORE: Saturday Night Live, distribuito da NBC
Billy on the Street, distribuito da truTV
Documentary Now!, distribuito da IFC
Drunk History, distribuito da Comedy Central
Portlandia, distribuito da IFC
Tracey Ullman's Show, distribuito da HBO
Miglior attore protagonista in una serie drammatica
VINCITORE: Sterling K. Brown, per aver interpretato Randall Pearson in This Is Us
Anthony Hopkins, per aver interpretato Robert Ford in Westworld
Bob Odenkirk, per aver interpretato Jimmy McGill in Better Call Saul
Matthew Rhys, per aver interpretato Philip Jennings in The Americans
Liev Schreiber, per aver interpretato Ray Donovan in Ray Donovan
Kevin Spacey, per aver interpretato Frank Underwood in House of Cards
Milo Ventimiglia, per aver interpretato Jack Pearson in This Is Us
 
Miglior attrice protagonista in una serie drammatica
VINCITORE: Elisabeth Moss, per aver interpretato Offred in The Handmaid's Tale
Viola Davis, per aver interpretato Annalise Keating in Le regole del delitto perfetto
Claire Foy, per aver interpretato la regina Elisabetta II in The Crown
Keri Russell, per aver interpretato Elizabeth Jennings in The Americans
Evan Rachel Wood, per aver interpretato Dolores Abernathy in Westworld
Robin Wright, per aver interpretato Claire Underwood in House of Cards
 
Miglior attore protagonista in una serie commedia
VINCITORE: Donald Glover, per aver interpretato Earnest "Earn" Marks in Atlanta
Anthony Anderson, per aver interpretato Andre "Dre" Johnson Sr. in Black-ish
Aziz Ansari, per aver interpretato Dev Shah in Master of None
Zach Galifianakis, per aver interpretato Chip e Dale Baskets in Baskets
William H. Macy, per aver interpretato Frank Gallagher in Shameless
Jeffrey Tambor, per aver interpretato Maura Pfefferman in Transparent
 
Miglior attrice protagonista in una serie commedia
VINCITORE: Julia Louis-Dreyfus, per aver interpretato Selina Meyer in Veep
Pamela Adlon, per aver interpretato Sam Fox in Better Things
Jane Fonda, per aver interpretato Grace Hanson in Grace and Frankie
Allison Janney, per aver interpretato Bonnie Plunkett in Mom
Ellie Kemper, per aver interpretato Kimmy Schmidt in Unbreakable Kimmy Schmidt
Tracee Ellis Ross, per aver interpretato Rainbow "Bow" Johnson in Black-ish
Lily Tomlin, per aver interpretato Frankie Bergstein in Grace and Frankie
 
Miglior attore protagonista in una miniserie o film
VINCITORE: Riz Ahmed, per aver interpretato Nasir "Naz" Khan in The Night Of
Benedict Cumberbatch, per aver interpretato Sherlock Holmes nell'episodio Il detective morente di Sherlock
Robert De Niro, per aver interpretato Bernie Madoff in The Wizard of Lies
Ewan McGregor, per aver interpretato Ray e Emmit Stussy in Fargo
Geoffrey Rush, per aver interpretato Albert Einstein in Genius
John Turturro, per aver interpretato John Stone in The Night Of
 
Miglior attrice protagonista in una miniserie o film
VINCITORE: Nicole Kidman, per aver interpretato Celeste Wright in Big Little Lies
Carrie Coon, per aver interpretato Gloria Burgle in Fargo
Felicity Huffman, per aver interpretato Jeanette Hesby in American Crime
Jessica Lange, per aver interpretato Joan Crawford in Feud: Bette and Joan
Susan Sarandon, per aver interpretato Bette Davis in Feud: Bette and Joan
Reese Witherspoon, per aver interpretato Madeline Martha Mackenzie in Big Little Lies
Miglior attore non protagonista in una serie drammatica
VINCITORE: John Lithgow, per aver interpretato Winston Churchill in The Crown
Jonathan Banks, per aver interpretato Mike Ehrmantraut in Better Call Saul
Ron Cephas Jones, per aver interpretato William H. Hill in This Is Us
David Harbour, per aver interpretato Jim Hopper in Stranger Things
Michael Kelly, per aver interpretato Doug Stamper in House of Cards
Mandy Patinkin, per aver interpretato Saul Berenson in Homeland
Jeffrey Wright, per aver interpretato Bernard Lowe in Westworld
 
Miglior attrice non protagonista in una serie drammatica
VINCITORE: Ann Dowd, per aver interpretato Aunt Lydia in The Handmaid's Tale
Uzo Aduba, per aver interpretato Suzanne "Crazy Eyes" Warren in Orange Is the New Black
Millie Bobby Brown, per aver interpretato Undici (Eleven) in Stranger Things
Chrissy Metz, per aver interpretato Kate Pearson in This Is Us
Thandie Newton, per aver interpretato Maeve Millay in Westworld
Samira Wiley, per aver interpretato Moira in The Handmaid's Tale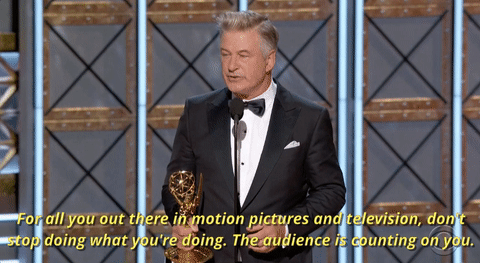 Miglior attore non protagonista in una serie commedia
VINCITORE: Alec Baldwin, per aver interpretato Donald Trump al Saturday Night Live
Louie Anderson, per aver interpretato Christine Baskets in Baskets
Tituss Burgess, per aver interpretato Titus Andromedon in Unbreakable Kimmy Schmidt
Ty Burrell, per aver interpretato Phil Dunphy in Modern Family
Tony Hale, per aver interpretato Gary Walsh in Veep
Matt Walsh, per aver interpretato Mike McLintock in Veep
 
Miglior attrice non protagonista in una serie commedia
VINCITORE: Kate McKinnon, per aver interpretato vari personaggi al Saturday Night Live
Vanessa Bayer, per aver interpretato vari personaggi al Saturday Night Live
Anna Chlumsky, per aver interpretato Amy Brookheimer in Veep
Kathryn Hahn, per aver interpretato Raquel Fein in Transparent
Leslie Jones, per aver interpretato vari personaggi al Saturday Night Live
Judith Light, per aver interpretato Shelly Pfefferman in Transparent
 
Miglior attore non protagonista in una miniserie o film
VINCITORE: Alexander Skarsgård, per aver interpretato Perry Wright in Big Little Lies
Bill Camp, per aver interpretato Dennis Box in The Night Of
Alfred Molina, per aver interpretato Robert Aldrich in Feud: Bette and Joan
David Thewlis, per aver interpretato V.M. Varga in Fargo
Stanley Tucci, per aver interpretato Jack Warner in Feud: Bette and Joan
Michael K. Williams, per aver interpretato Freddy Knight in The Night Of
Miglior attrice non protagonista in una miniserie o film
VINCITORE: Laura Dern, per aver interpretato Renata Klein in Big Little Lies
Judy Davis, per aver interpretato Hedda Hopper in Feud: Bette and Joan
Jackie Hoffman, per aver interpretato Mamacita in Feud: Bette and Joan
Regina King, per aver interpretato Kimara Walters in American Crime
Michelle Pfeiffer, per aver interpretato Ruth Madoff in The Wizard of Lies
Shailene Woodley, per aver interpretato Jane Chapman in Big Little Lies
Miglior regia per una serie drammatica
VINCITORE: Reed Morano, per l'episodio Offred di The Handmaid's Tale
Stephen Daldry, per l'episodio Hyde Park Corner di The Crown
The Duffer Brothers, per l'episodio Capitolo primo - La scomparsa di Will Byers di Stranger Things
Kate Dennis, per l'episodio The Bridge di The Handmaid's Tale
Vince Gilligan, per l'episodio Testimone di Better Call Saul
Lesli Linka Glatter, per l'episodio L'America prima di tutto di Homeland
Jonathan Nolan, per l'episodio Un nuovo inizio di Westworld
Miglior regia per una serie commedia
VINCITORE: Donald Glover, per l'episodio Il talk show di Atlanta
Jamie Babbit, per l'episodio Intellectual Property di Silicon Valley
Mike Judge, per l'episodio Server Error di Silicon Valley
David Mandel, per l'episodio Groundbreaking di Veep
Morgan Sackett, per l'episodio Blurb di Veep
Dale Stern, per l'episodio Justice di Veep
 
Miglior regia per un film, miniserie o speciale drammatico
VINCITORE: Jean-Marc Vallée, per Big Little Lies
Noah Hawley, per l'episodio The Law of Vacant Places di Fargo
Ron Howard, per l'episodio Genio ribelle di Genius
James Marsh, per l'episodio L'arte della guerra di The Night Of
Ryan Murphy, per l'episodio And the Winner Is... (The Oscars of 1963) di Feud: Bette and Joan
Steve Zaillian, per l'episodio La spiaggia di The Night Of
Miglior regia per un varietà
VINCITORE: Don Roy King, per la puntata con Jimmy Fallon del Saturday Night Live
Andy Fisher, per la puntata The (RED) Show di Jimmy Kimmel Live
Jim Hoskinson, per la puntata 1x79 di The Late Show with Stephen Colbert
Paul Pennolino, per la puntata Multi-Level Marketing di Last Week Tonight with John Oliver
Derek Waters e Jeremy Konner, per la puntata Hamilton di Drunk History
Miglior sceneggiatura per una serie drammatica
VINCITORE: Bruce Miller, per l'episodio Offred di The Handmaid's Tale
The Duffer Brothers, per l'episodio Capitolo primo - La scomparsa di Will Byers di Stranger Things
Joel Fields e Joe Weisberg, per l'episodio The Soviet Division di The Americans
Lisa Joy e Jonathan Nolan, per l'episodio Un nuovo inizio di Westworld
Peter Morgan, per l'episodio Assassini di The Crown
Gordon Smith, per l'episodio Imbroglio di Better Call Saul
 
Miglior sceneggiatura per una serie commedia
VINCITORE: Aziz Ansari e Lena Waithe, per l'episodio Thanksgiving di Master of None
Alec Berg, per l'episodio Success Failure di Silicon Valley
Donald Glover, per l'episodio Il talk show di Atlanta
Stephen Glover, per l'episodio Notorietà di Atlanta
Billy Kimball, per l'episodio Georgia di Veep
David Mandel, per l'episodio Groundbreaking di Veep
 
Miglior sceneggiatura per un film, miniserie o speciale drammatico
VINCITORE: Charlie Brooker, per l'episodio San Junipero di Black Mirror
Jaffe Cohen, Michael Zam e Ryan Murphy, per l'episodio Pilot di Feud: Bette and Joan
Noah Hawley, per l'episodio The Law of Vacant Places di Fargo
David E. Kelley, per Big Little Lies
Ryan Murphy, per l'episodio And the Winner Is... (The Oscars of 1963) di Feud: Bette and Joan
Richard Price e Steven Zaillian, per l'episodio Il richiamo della foresta di The Night Of
 
Miglior sceneggiatura per un varietà
VINCITORE: Kevin Avery, Tim Carvell, Josh Gondelman, Dan Gurewitch, Geoff Haggerty, Jeff Maurer, John Oliver, Scott Sherman, Will Tracy, Jill Twiss e Juli Weiner, per Last Week Tonight with John Oliver
Jo Miller, Samantha Bee, Ashley Nicole Black, Pat Cassels, Eric Drysdale, Mathan Erhardt, Travon Free, Joe Grossman, Miles Kahn, Melinda Taub e Jason Reich, per Full Frontal with Samantha Bee
Jermaine Affonso, Alex Baze, Bryan Donaldson, Sal Gentile, Matt Goldich, Dina Gusovky, Jenny Hagel, Allison Hord, Mike Karnell, John Lutz, Seth Meyers, Ian Morgan, Seth Reiss, Amber Ruffin, Mike Scollins, Mike Shoemaker e Ben Warheit, per Late Night With Seth Meyers
Barry Julien, Jay Katsir, Opus Moreschi, Stephen Colbert, Tom Purcell, Matt Lappin, Michael Brumm, Nate Charny, Aaron Cohen, Cullen Crawford, Paul Dinello, Ariel Dumas, Glenn Eichler, Django Gold, Gabe Gronli, Daniel Kibblesmith, Michael Pielocik, Kate Sidley, Jen Spyra, Brian Stack e John Thibodeaux, per The Late Show with Stephen Colbert
Chris Kelly, Sarah Schneider, Kent Sublette, Bryan Tucker, Pete Schultz, James Anderson, Kristen Bartlett, Jeremy Beiler, Zack Bornstein, Joanna Bradley, Megan Callahan, Michael Che, Anna Drezen, Fran Gillespie, Sudi Green, Steve Higgins, Colin Jost, Erik Kenward, Rob Klein, Nick Kocher, Dave McCary, Brian McElhaney, Dennis McNicholas, Drew Michael, Lorne Michaels, Josh Patten, Katie Rich, Streeter Seidell, Will Stephen e Julio Torres, per Saturday Night Live