Con il nuovo album "24K Magic" e il video omonimo, Bruno Mars si è portato a casa due dei premi più importanti ai BET 2017 - Best Male R&B e Pop Artist and Best Music Video of the Year - ma non è per questo che si è parlato tanto di lui dopo la serata!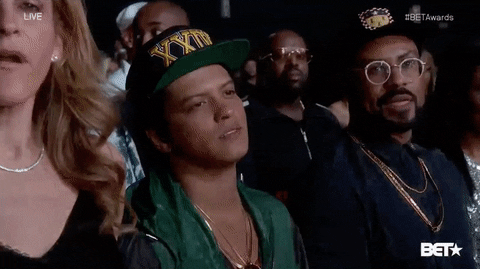 Seduto in platea alla cerimonia dei Black Entertainment Television Awards a Los Angeles, l'artista ha avuto un momento di cedimento. Il caso ha voluto che le telecamere lo inquadrassero in diretta tv, proprio mentre la palpebra sta calando...
Now I fell like Bruno, so I'm going to sleep! Sweet dreams, Hooligans 😴pic.twitter.com/FRRail6Ziw

— ❤Sorry4my English❤️ (@Hooligan_Kat) 26 giugno 2017
I fan hanno notato la défaillance di Peter Gene Hernandez (il suo vero nome!) e si sono scatenati in meme e commenti divertenti: ecco le migliori reazioni da Twitter!
They woke @BrunoMars up just in time to get his award. #BETawards pic.twitter.com/q9d85auqxt

— Power 105.1 (@Power1051) 26 giugno 2017
Bruno Mars after hearing he won a #BETAwards pic.twitter.com/RZ80IoLl25

— Matthew A. Cherry (@MatthewACherry) 26 giugno 2017
Bruno Mars in the audience #BETAwards pic.twitter.com/ZOcJyHTpnv

— ThisPodcastFllwsBac (@TripleTeaaa) 26 giugno 2017
La stanchezza di Bruno Mars (sapevi che è il cantante preferito di Adele?) è più che lecita: il suo 24K Magic World Tour è iniziato a fine marzo, in due mesi e mezzo ha già girato tutta l'Europa e ora si sta esibendo negli Stati Uniti. Il giorno prima dei BET Awards, aveva tenuto un concerto vicino a Tacoma, che dista quasi tre ore in aereo da Los Angeles, dove si sono tenuti i BET Awards, e subito dopo è ripartito per il Canada.
ph: getty images